QA Center Quality Assurance Center
"Excellent Quality is the only one way of the enterprise exist & development" is our quality policy. With the quality management system based on ISO 9001Quality Assurance System, the company must strictly carry out as the stipulated requirements in the documents of quality control procedures from Incoming Quality Control (IQC) of raw materials to out–of-factory Quality Control (OQC) of finished products. To ensure the company's quality credit and customers'final benefits, HL. pays special attention to reliability test and life test, such as tests for high/low temperature working/storage, constant temperature & humidity working/storage, high/low temperature impact, vibration and drop, etc..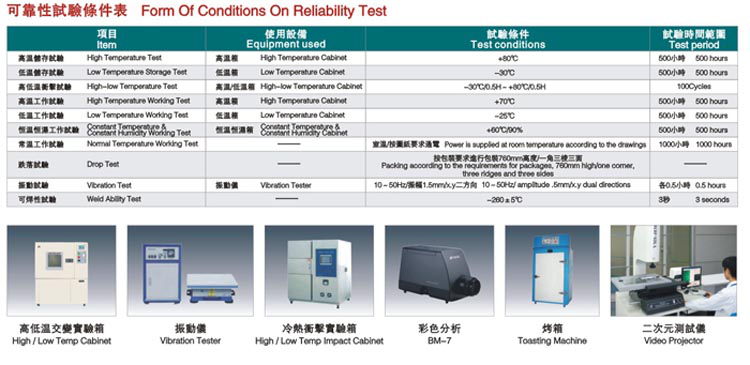 Quality Goals:
1. On time delivery rate 100%
2. Customer return rate ≤800ppm
3. Customer satisfaction degree ≥95%
Guarantees To Realize The Goals:
1. HL has an experienced QA team, which keeps strict quality ideas and is responsible for the company's specific operations of quality management system. For key working procedures, the department performs strict control and carries out repeated reliability tests to ensure that every product delivered to a customer is eligible.
2. New product design needs tow times review, mass production only after the tooling samples are approved by clients and trial production ok;
3.Inspection points and QC random inspection points are placed along the key working procedures of the whole production lines;
4. For main raw materials and auxiliary materials, Standard AQL 0.4 is executed;
5. Product cycle reliability tests include: high temperature working/storage, low temperature working/storgage,constant temperature working/storage,high0-low temperature impact test and vibration test.
Quality Strategies:
1. To focus on customers, continuously improve quality, minimize costs and improve competition.
2. To strictly follow the management process and guarantee excellent quality.
3. To strongly deploy PDCA quality circulation management, to maintain and continuously improve the product quality.
4.To strive to maintain quality control standardization through tests and data statistics and analysis
5. To proceed FMEA,CPK control and 6δ
Quality Management principle:
1. Review customers' requirements such as technical issues before sample making, control strictly the design process until customer satisfied.
2. SQE help Souring dept to audit suppliers to guarantee incoming material excellent quality, full quantity ,to satisfy customers requirements, and only ok material can be used.
3. Collect quality information from various aspects to make quality feedback & quality improvement:
●QA makes quality feedback and assigns relative person to take active and preventive action promptly,
●PIE tracks, audits production lines randomly and assists QA to deal with quality issues.
●Sales dept. tracks after-sales service status, and contacts QA dept to solve customers'quality issues