Osram starts divesting digital lighting
In a possible precursor to unloading its once all-important IoT and other operations, it sells an electronics components factory. Horticulture looks safe. Meanwhile, Q1 profits are up.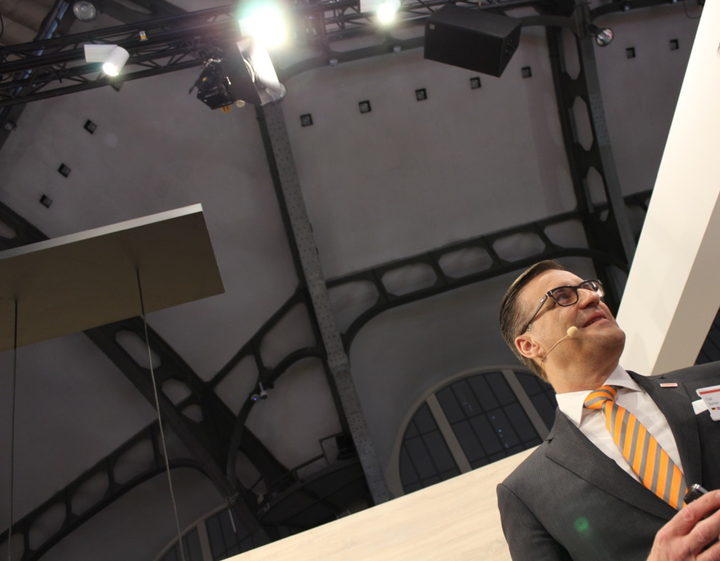 Outgoing Osram CEO Olaf Berlien launched a string of digital lighting initiatives in his six years at the helm, such as here in 2016 when
he introduced an indoor positioning system called Einstone at the Light+Building exhibition in Frankfurt. (Photo credit: Image courtesy of Mark Halper.)
The long-anticipated dismantling of Osram's smart lighting operations appears to have begun, as outgoing CEO Olaf Berlien said the company is selling a portion of its Digital division and indicated that a broader sale could follow as Osram focuses increasingly on chip-level operations under new owner ams.
The divestiture could eventually include Lightelligence, the once-ballyhooed centerpiece of Osram's fading Internet of Things (IoT) lighting initiative, which never quite seemed to find its legs and which has struggled even more with the pandemic-related downturn in the commercial office market.
Whatever happens, though, Osram looks intent on retaining horticultural lighting, which Berlien described as being in good shape led by the profitable Fluence by Osram, based in Austin, TX. In addition to IoT and horticulture, Digital includes entertainment lighting and architectural lighting.
On a phone call with analysts today, Berlien described a "step by step" approach to considering which Digital operations Osram will sell.
"Let's see what we will do next," he said.
The announcement came as part of the company's financial results for the first quarter of its 2021 fiscal year, when Osram managed through cost savings — including measures it took in Digital — to report €6 million (US$7.3M) in after-tax earnings as sales declined 3.8% to €840M ($1B) from €873M ($1.1B) a year earlier, when after-tax earnings were €1M ($1.2M). The quarter ended on Dec. 31.
The quarterly results were the last for Berlien, who is set to leave the company at the end of this month. Austrian sensor company ams is installing its chief financial officer Ingo Bank as Osram's new top day-to-day boss. Bank is a former Osram CFO.
Berlien's six-year reign had at one point included a high priority push into IoT lighting under the marketing banner Lightelligence. But as LEDs Magazine has been reporting, Lightelligence has faded well into the background, and Berlien's emphasis has over the last couple of years turned to the photonics and LED chip-level sectors of Osram's business.
The chip priority predates ams' long and winding pursuit of Osram, but strengthened as ams has moved in. Premstaetten, Austria-based ams took rudimentary ownership of Osram in July, and strengthened its grip in November.
LEDs Magazine first reported back in August 2019 that IoT lighting could well become a casualty of an ams takeover, since ams, at the time still pursuing Osram, described IoT as "non-core" to its mission.
IoT lighting equips lights and the lighting infrastructure with sensors and radio chips that gather, communicate, and analyze data that companies can use to improve a myriad of things including sales, customer relations, asset tracking, inventory control, and property management among many others.
The lighting industry in general — not just Osram — has encountered slow uptake, with many customers deploying one-off implementations while not yet committing to wider rollouts.
At Osram, the prospects of dumping smart commercial lighting has waxed and waned over the last 18 months, but the eventuality was always there. It came to the fore again in November, when ams CEO Alexander Everke described Digital as "not a strategic asset for us," shortly after ams dismissed the Osram executive who was in charge of developing its IoT technologies, former chief technology officer Stefan Kampmann.
Everke also said at the time that ams would act swiftly to "make portfolio choices," a statement that seemed to bode poorly for IoT lighting's future at Osram under ams.
Today, those choices began taking shape at Digital, which Osram refers to in shorthand as "DI."
"As part of our ongoing portfolio evaluation, we have decided to start the search process for a new best owner for the DI lighting components business," Berlien said earlier in the day in a quarterly results presentation he prepared for analysts. The components business makes things like power supplies and ballasts, and is also known Digital Systems (DS), a subgroup of DI.
By later in the day, Berlien revealed on a call with analysts that Osram had landed a US buyer for a components factory in Plovdiv, Bulgaria. Osram will continue to buy parts from the factory, which it is selling to San Jose, CA-based contract manufacturing firm Sanmina. Berlien said Sanmina will be able to purchase material at lower price than Osram has been able to negotiate, and that it will be able to run three shifts a day, something that Osram has not been doing.
A second components factory, in Monterrey, Mexico could be sold when Osram finds a buyer for the DS business segment as a whole, an Osram spokesperson told LEDs. Monterrey employs about 1100 people, and Plovdiv around 800.
Osram did not reveal the sale price for Plovdiv.
It looks likely that the sale of other Digital groups could also follow. That includes Lightelligence. Once the cut-and-thrust of Osram's IoT lighting efforts but now barely visible, Lightelligence and its fancy name were subsumed somewhere along the way by an ordinary-sounding Osram group called building automation, LEDs Magazine has learned.
Berlien did not today comment specifically to the analysts about Lightelligence. But on a German language call with journalists this morning, he said that Osram is "looking into" selling building automation, which includes Lightelligence, a separate Osram spokesperson told LEDs (the writer and reporter of this article does not speak German, so he was not part of the journalists' gathering).
The Digital group has been hit hard by the pandemic, given that its different segments target commercial property (a focus of Lightelligence) and entertainment including cinema and stage.
"Ninety-nine percent of all the cinemas are closed," Berlien remarked to analysts, portraying theater environments in a similar manner.
Despite the market difficulties in commercial property and entertainment, Osram more or less managed to achieve "break even" adjusted EBITDA in the division, Berlien noted (a €1M loss, which was the same as in the first quarter of 2020 according to the financial report), as sales declined to €178M ($215.7M), which was a 12.6% drop on a comparable basis.
"Nevertheless, the digital business will never achieve our targets on profitability," he told analysts.
"From this point of view it will be a dilution on our business of Opto and our Automotive business," Berlien said, referring to Osram's two other main business divisions, which sell optical chips and automotive lighting systems, respectively. "For this reason, we said let's go to a divestment."
Horticultural operations look safe, however.
"This is running quite well," Berlien said. "Our company Fluence in the US had growing rates of about 25% year over year and is highly profitable. So I would say it will be a nice business in our portfolio."
Ultimately, the decision over what to sell belongs to ams. The incoming Osram CEO, an ams appointee, has long been a fan of Fluence, dating back to his time as Osram CFO.
Berlien gave an upbeat report for the Opto group and for Automotive. Opto sales for the quarter were €356M ($431.4M), a 0.7% nominal decline from the earlier year's €359M ($435M), and a 4.7% increase on a comparable basis. Automotive sales were €474M ($574.4M) compared to €480M ($581.6M) a year earlier, representing a 1.1% nominal dip and a 1.4% comparable gain. Adjusted EBITDA rose for both groups, to €113M ($136.9M) for Opto compared to €88M ($106.6M) a year ago, and €65M ($78.8M) for Automotive from €47M ($57M) — gains of 28.4% and 38%, respectively.
Osram is investing in mini LEDs, Berlien said.
LEDs hopes to bring you more from today on Opto and Automotive in a separate article.